Events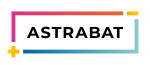 A new European project has been launched to design an innovative high-energy and safe, solid-state lithium-ion battery cell for the electric vehicle market and beyond. The EU-funded project, named ASTRABAT, aims to develop optimal lithium-ion (Li-ion) battery solutions for the increasing demands of the electric vehicle market in particular. The goal is to fulfil Europe's need for a safe, high-energy, sustainable and marketable battery for green mobility that could be manufactured in Europe on a massive scale. As society turns to electric vehicles, this challenge has now become acute, with Asian competitors well ahead in the game.
Led by France's CEA, the 4-year project will focus on developing a better, safe and environmental-friendly cell architecture. This will come with an all solid-state electrolyte design suited to the new high-energy electrode materials and compatible with current mass-production processes.
Leszek Niedzicki, PhD, DSc, Eng. of PIRG group, Faculty of Chemistry leads the WUT team participating in the project. Main role of WUT group is synthesis of the key electrolyte ingredients - proprietary lithium salts and plasticizers.
Published: 07/04/2020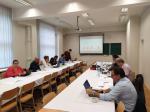 On 19-20 September 2019, GIENAHS Alliance meeting has been held at Warsaw University of Technology.
First main topic of the meeting was discussion on law and program harmonization of Industrial PhD studies on the EU level as well as possible changes to programs for better suitability of Industrial PhD Studies for small and medium enterprizes need.
Second main topic of the meeting was dedicated to discussion of the results, summary and conclusions of the international survey performed by consortium in six countries that investigated SMEs needs from potential employees of R&D departments that are alumni of PhD studies.
The meeting passed in great atmosphere.
GIENAHS Alliance aims at addressing the strategic issue of interaction between HEIs and the particular target represented by SMEs. Alliance aim is to design a new model of European Industrial PhD curriculum SME-oriented targeted on European SMEs Innovation needs.
Published: 10/10/2019