Events
We present you an international promotional clip for Warsaw University of Technology.
Clip can be watched here.
Published: 24/02/2016
In December 2018 the Battery Materials Platform has been officially established at the Faculty of Chemistry, Warsaw University of Technology. Platform inlcudes researchers from most of the Faculty's Chairs and Departments. Platform's aim is to integrate all scientists working on materials, research methods and processes related to energy storage devices in order to stregthen and encourage cooperation and as a result achieve synergy.
The list of scientists includes members of seven Faculty's units and out of multiple research groups. Full list is available below:
Published: 16/01/2019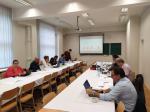 On 19-20 September 2019, GIENAHS Alliance meeting has been held at Warsaw University of Technology.
First main topic of the meeting was discussion on law and program harmonization of Industrial PhD studies on the EU level as well as possible changes to programs for better suitability of Industrial PhD Studies for small and medium enterprizes need.
Second main topic of the meeting was dedicated to discussion of the results, summary and conclusions of the international survey performed by consortium in six countries that investigated SMEs needs from potential employees of R&D departments that are alumni of PhD studies.
The meeting passed in great atmosphere.
GIENAHS Alliance aims at addressing the strategic issue of interaction between HEIs and the particular target represented by SMEs. Alliance aim is to design a new model of European Industrial PhD curriculum SME-oriented targeted on European SMEs Innovation needs.
Published: 10/10/2019