Dr Paweł Borowiecki as a Guest Editor for the Special Issue "Chemoenzymatic Synthesis" in Commun. Chem. journal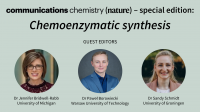 We are proud to announce that Dr Borowiecki (Faculty of Chemistry, Warsaw University of Technology), together with Dr Jennifer Bridwell-Rabb from the Department of Chemistry at the University of Michigan, Ann Arbor, and Dr Sandy Schmidt from the Gröningen Research Institute of Pharmacy, University of Gröningen, will coordinate the edition of a Special Issue entitled: Chemoenzymatic synthesis in Nature: Communications Chemistry (ISSN 2399-3669, IF: 7.211).

This Collection aims to present the latest progress in biocatalysis, with topics of interest including:
Enzyme engineering
Multienzymatic cascades
Chemoenzymatic cascades
Metalloenzymes
Photo-biocatalysis
Multifunctional biocatalysts
Enzyme promiscuity

For more information, visit the journal's website».