GIENAHS Project outcomes - message to all SME CEOs: raise your own R&D Manager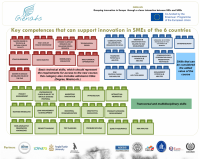 Erasmus+ Programme GIENAHS project ("Grasping Innovation in Europe through a closer iNterAction between HEIs and SMEs") conducted at Warsaw University of Technology in cooperation with 5 other European Universities and 4 small and medium enterprises (SMEs), led by Uni.versus CSEI (Bari, Italy) has reached another milestone. Researchers of Warsaw University of Technology in cooperation with Exquisite SRL (Romanian company) led wide-range survey among SMEs in 6 European countries (Greece, Italy, Poland, Romania, Sweden, United Kingdom). The main aim was to determine the innovation introduction processes at SMEs and what are the needs for making it faster and easier. The responses were analyzed and the results were used to form the list of skills/knowledge required by SMEs when hiring R&D manager that would organize work and funding for their future innovations. Such list would be the key list to form European PhD curriculum that would train such future R&D managers specifically for the SMEs sector.
Outline of the WP4 Final Report main findings:
- Cross country analysis of responses show much more similarities between companies than differences.
- The main differences between countries were in ideas screening in company or ways of supporting innovations through HR support (courses, studies for employees) - both are connected to local business culture.
- The survey results were very similar in all countries when it comes to types of innovations, supporting drivers of the innovation, ways for finding ideas and ways to protect IP.
- The main issue for innovation process at the most of surveyed companies is funding. That is why ca. 40% of surveyed companies either expect their future R&D manager to know how to handle innovation development, preferably through the projects' management.
- The main application of responses to survey questions analysis was to build the list of skills/knowledge required in industrial PhD curriculum to match SMEs' expectations. The most important traits of the potential CTO/R&D manager for surveyed companies are:
- soft skills: communication, team working/building, creativity, assertiveness, negotiation, leadership, intercultural competences
- technical skills: process/product improvement and optimization, patent application writing/preparation
- analytical skills: scientific literature/patent analysis, product specifications/state-of-the-art analysis/review,
- business skills: business plan analysis, performing idea/concept development, project/idea evaluation, planning R&D process from business model point of view, grant/project application preparation, strategic planning, economics basics, marketing basics
- management skills: project and research management
- knowledge: IP law, market knowledge in the field
- language skills (including technical, business and scientific English)
- The high-tech industry has the same issues and problems regardless of the location and requires the same hard work as well as competences from the R&D manager.
- About half of the surveyed companies at least once recruited industrial PhD student and ca. 1/3 at least once sent their employee to industrial PhD studies.
That gives a hope and good perspective for future popularization of industrial PhD path for both students and companies' employees all around the Europe.
Co-Funded by the Erasmus+ Programme
Erasmus Plus KA2 Cooperation for innovation and the exchange of good practices
Project No: 588071-EPP-1-2017-1-IT-EPPKA2-KA
Project title: Grasping Innovation in Europe through a closer iNterAction between HEIs and SMEs