GIENAHS project meeting in Warsaw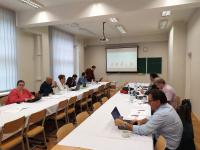 On 19-20 September 2019, GIENAHS Alliance meeting has been held at Warsaw University of Technology.
First main topic of the meeting was discussion on law and program harmonization of Industrial PhD studies on the EU level as well as possible changes to programs for better suitability of Industrial PhD Studies for small and medium enterprizes need.
Second main topic of the meeting was dedicated to discussion of the results, summary and conclusions of the international survey performed by consortium in six countries that investigated SMEs needs from potential employees of R&D departments that are alumni of PhD studies.
The meeting passed in great atmosphere.
GIENAHS Alliance aims at addressing the strategic issue of interaction between HEIs and the particular target represented by SMEs. Alliance aim is to design a new model of European Industrial PhD curriculum SME-oriented targeted on European SMEs Innovation needs.